Need Help?
Medical reports / medical validation issues: Sarah Bohe, 801-799-4111 or emsfeedback@slcgov.com
Fire reports / fire validation issues: Nicole Cover, 801-799-4140 or fpb@slcgov.com
Technical support or all other issues: Evan Sherlock, 801-799-3511 or support@slcfire.tech

This article is stale. We're working on a better version

Logging into the System
ImageTrend works best with Google Chrome, or Safari for Apple devices. Please contact Evan Sherlock at 801-799-3511 if you don't have access to either browser on your device.
Important: Make sure you're logged into the correct version of ImageTrend
Fire Incidents or Medical Report Completion

Web Address: field.slcfire.com

Web Address: rms.slcfire.com
Understanding Workflows
A workflow is a life cycle of a report, starting from initial entry, and ending with a finalized, locked report ready for submission to the State or National Fire Administration. The following status' are used in our workflows:
Draft (Medical and Fire): A report is in the process of being completed, and hasn't been posted (medical), or finished (fire).
Ready for Officer Review, (Medical Only): When the "Post Incident" command is issued on a medical report, it is locked, and automatically changed to this status.
Need Crew Attention, (Medical Only): If there is a discrepancy in a medical report, a supervisor has the option of changing the status to "Need Crew Attention". This is not required, and can be completed verbally if a crew member is not immediately available. The crew member will then have to unlock the report, and make the required change.
Officer Reviewed, (Medical and Fire): Once a report has been approved by a supervisor, it should be placed in this status. It is assumed supervisors complete NFIRS reports; so, anytime "Finish Incident" is used on an NFIR, the incident is automatically given this status. Reports with this status will be sent to the State or National Fire Administration on a regular basis.
Reviewing Medical Incidents
1. Log into ImageTrend Web, (rms.slcfire.com), and select "Incidents" / "View Existing EMS"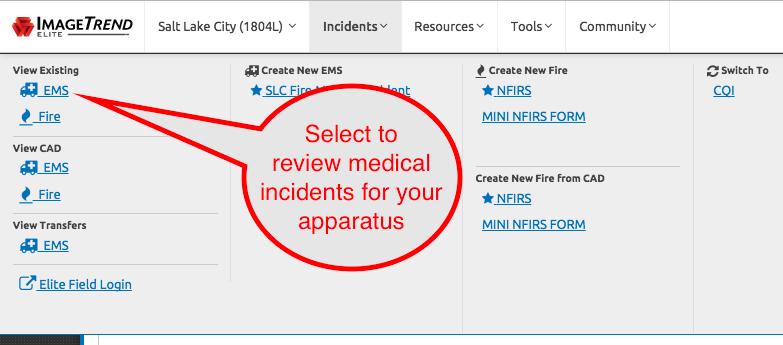 2. Change the view to "Officer Review", then press the arrow to the right of the incident.

3. After conducting a review of the report, the status can be updated. If everything looks good, change the status to "Officer Reviewed." If there's a problem, Need Crew Attention can optionally be selected.

A listing of incidents requiring crew attention can be found in the System Views area. Note: crews will have to unlock their incident, then lock it again upon completion. After, the status will have be changed to "Officer Reviewed" in order to be passed to the State.