ImageTrend Reference Guide - Version 1.1 – June 2021
Need Help?
Medical reports / medical validation issues: Sarah Bohe, 801-799-4111 or emsfeedback@slcgov.com
Fire reports / fire validation issues: Nicole Cover, 801-799-4140 or fpb@slcgov.com
Technical support or all other issues: Evan Sherlock, 801-799-3511 or support@slcfire.tech


This article is dated. We're working on a modern version

Logging into the System
ImageTrend works best with Google Chrome, or Safari for Apple devices. Please contact Evan Sherlock at 801-799-3511 if you don't have access to either browser on your device.
Important: Make sure you're logged into the correct version of ImageTrend
Fire Incidents or Medical Report Completion

Web Address: field.slcfire.com

Web Address: rms.slcfire.com
Medical Reporting
Login to ImageTrend "Field" by using the web address "field.slcfire.com" or selecting this icon: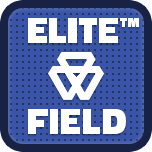 After logging in, add your crew and your unit. It is not necessary to add the shift. Then select "New Incident"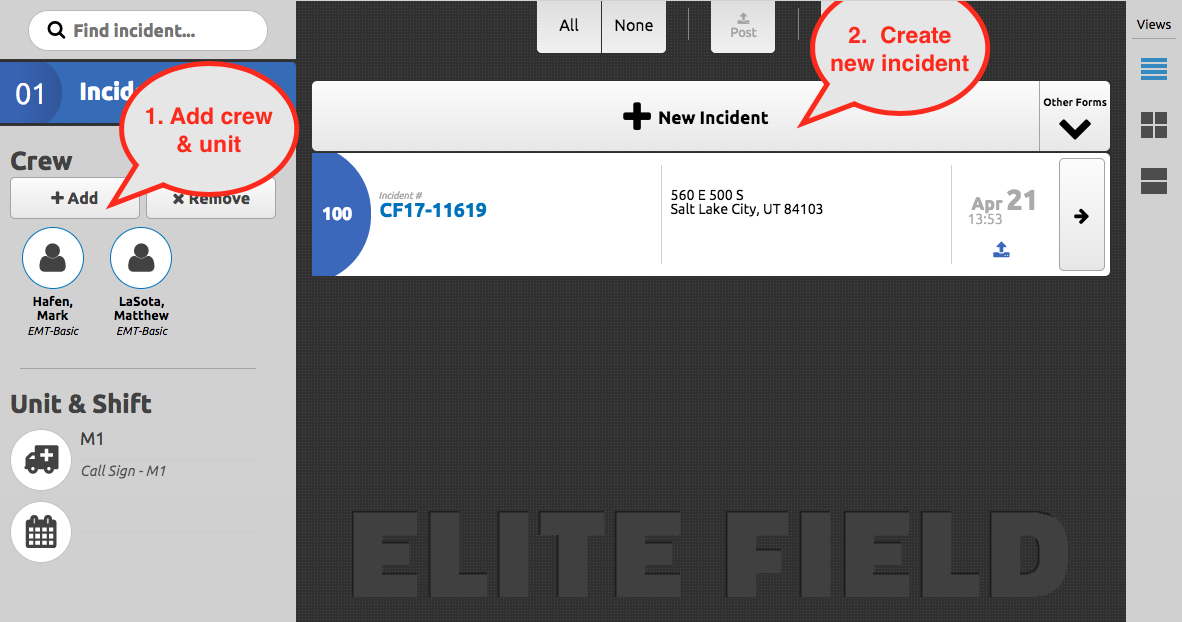 2. Press the "CAD" button to receive Dispatch information. Look for your incident and press the download button.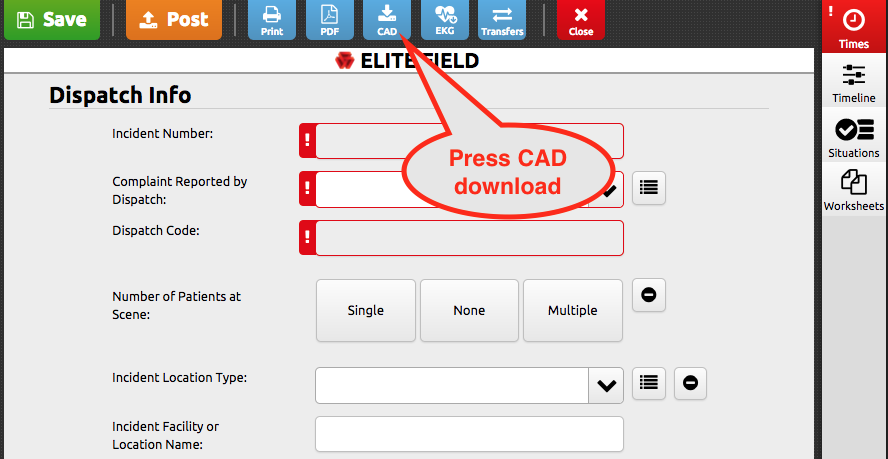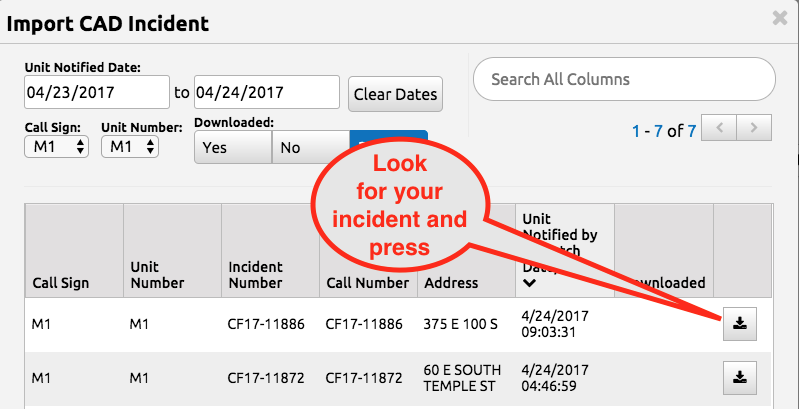 3. Begin completion of the report. Fill in all required and appropriate non-required fields. Click the exclamation point next to any required field to determine what the specific requirement is. This is particularly useful if you can't figure out why the field is red.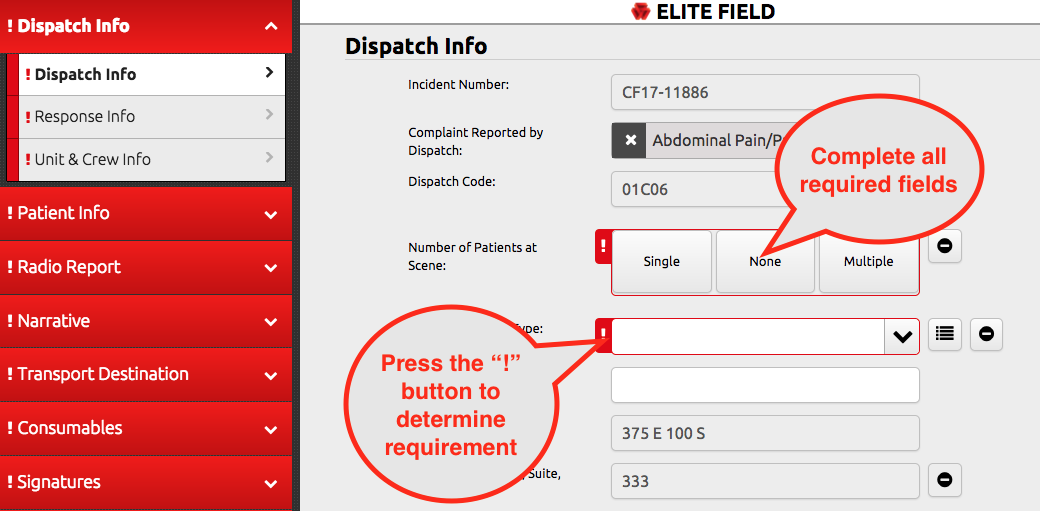 4. Use the power tools on the right hand side of the screen to quickly complete actions and assessments. Any power tool used time stamps the activity in your report.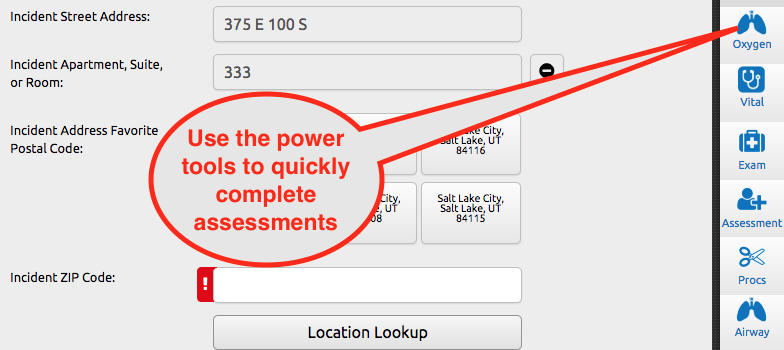 5. If you're a BLS apparatus responding with and ALS rig and you arrive first on scene, begin the process of collecting report data. Once the ALS apparatus arrives, you can transfer your report to them. Once the upload has been completed, the incident will be removed from your list.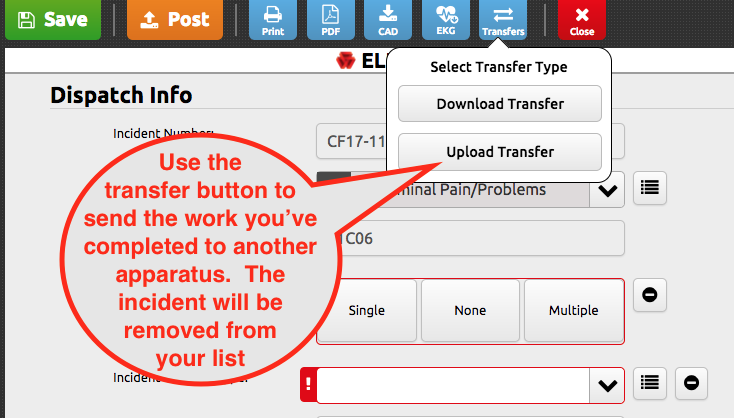 6. If you've performed a 12-Lead, first upload your case to the Zoll Cloud using your X-Series monitor. Upon completion, select the "EKG" button to download the information into your report.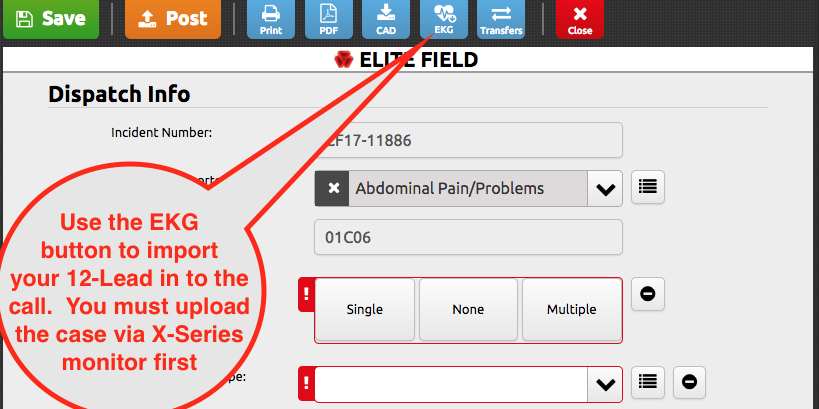 7. When completing your report, if you don't have a validation score of 100, press the validation button to see a listing of missing & required fields. Press the arrow to the right of any validation error to move to the required field.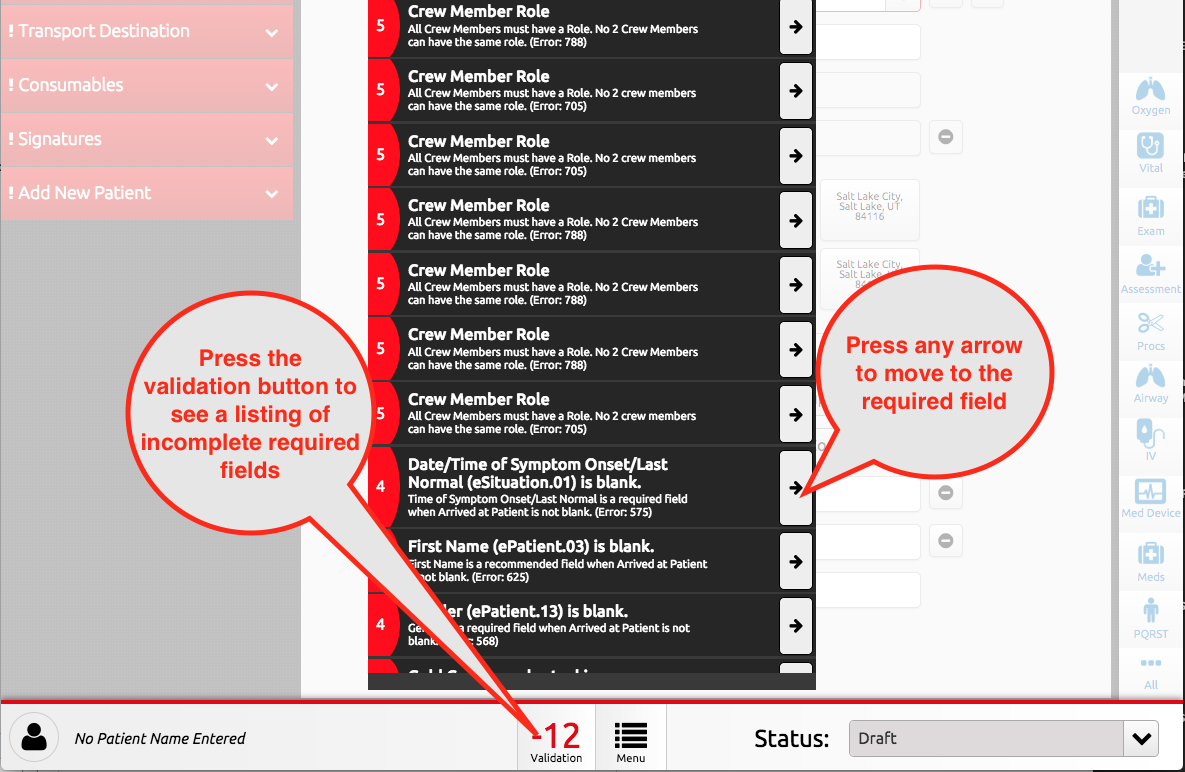 8. Download your CAD data again to import back in service times.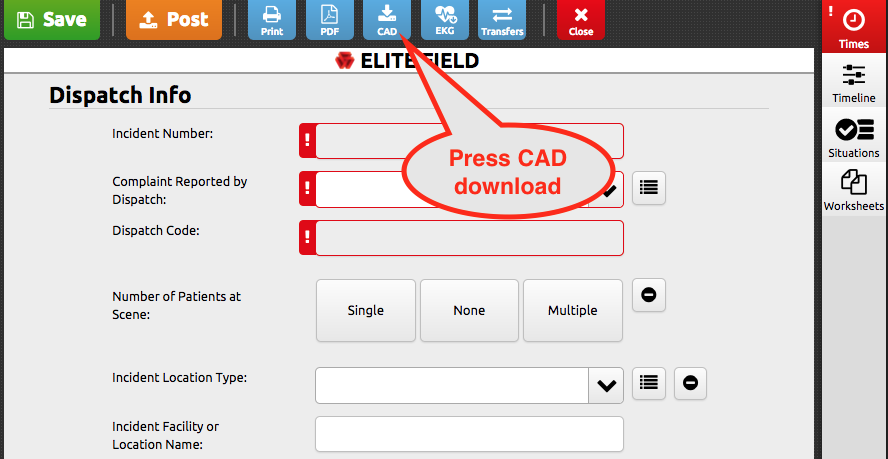 9. Once a validation score of 100% has been reached, press the "Post" button to lock the incident, and move it to ImageTrend web. The status of the incident will be changed to "Ready for Officer Review"

Fire Reporting
Login to ImageTrend "Web" by using the web address "rms.slcfire.com". You'll know you're on the web version because you'll see a gold login screen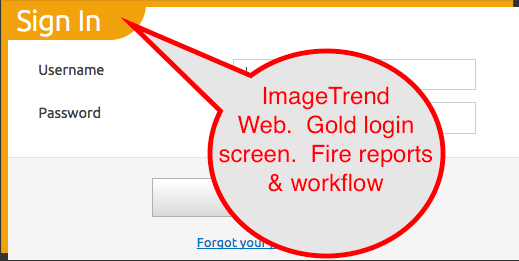 1. Accept the privacy and certification statements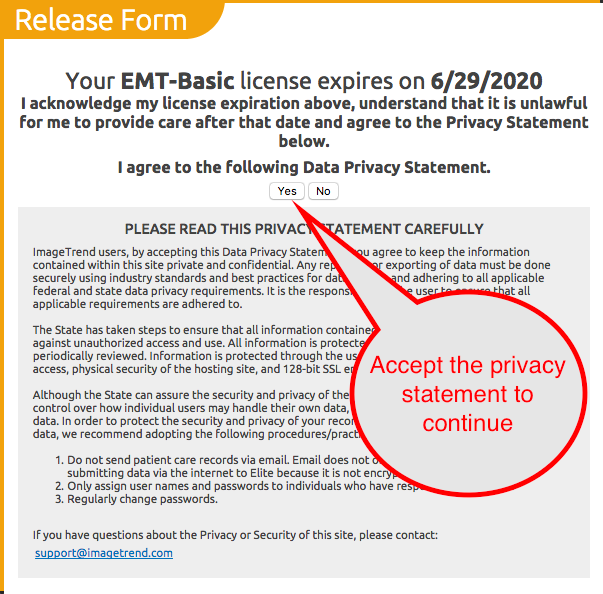 2. Select the "Incidents" drop down, then "View Existing Fire". A listing of your fire incidents (NFIRS) will appear. Note: Any dispatch code of 51 or greater will automatically create an NFIR report for you. Any code 52 (alarms) will only generate an NFIR if there is an en route time present.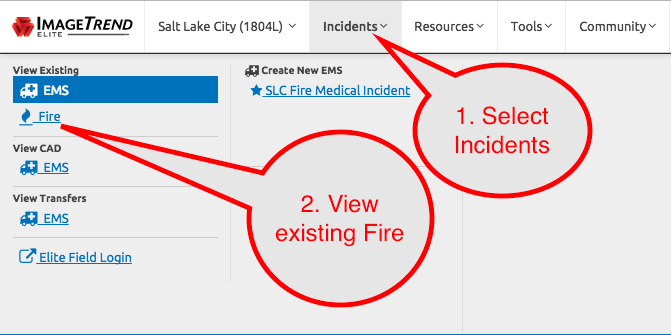 2. Select the view "Incomplete NFIRS", then press the arrow to the right of your incident to begin your report

3. Begin completing required fields, and those appropriate for the situation until a score of 100 is reached. If you're unable to reach a score of 100 even though you have filled out everything in red, check out the "Apparatus" power tool to determine if information is required or missing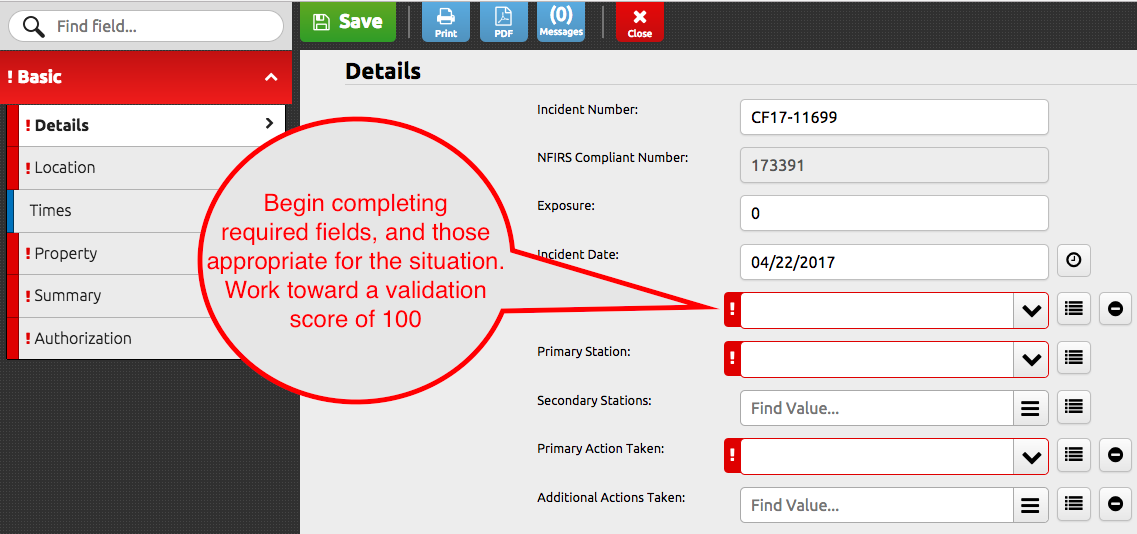 4. Use the validation button to see a complete listing of all data fields that need to be completed. Press the arrow to the right of each to move to that field for completion.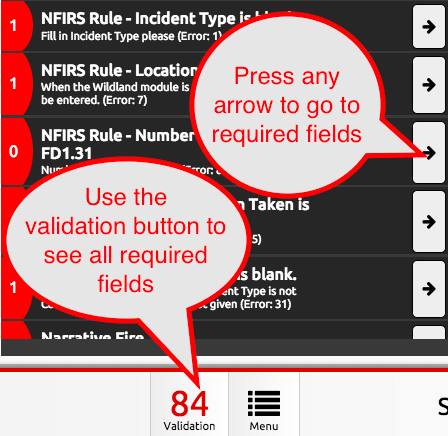 5. Once you've received a validation score of 100, you can either complete the incident, or begin adding exposures, using the Menu button. Note: It is recommended to complete your incident before adding exposures. When an exposure record is added, you'll need to press the "CAD" download button to receive details, such at address, times, etc.